Did you mean Teacher (Chapter 20), chapter 20 of the manga?
---
Teacher (せんせい, Sensei?) is the fourth chapter in the Gakkou Gurashi! manga.
Megumi was writing in her diary and tells about a story that occurred before the outbreak.
Yuki told Kurumi that it was raining. She noted that everyone is running inside to take cover from it. Suddenly, the two realized something, the laundry!

On the roof, Rii-san and the others began to collect their laundry. Later, the School Life Club, including Megumi, ate lunch. The group discussed about blackouts. Afterwards, Yuki wanted to go camping. Since the group were experiencing electricity shortages, the others agreed.

Night time fell and Rii-san, Yuki (with a bear plushie), and Kurumi were chatting to each other inside a tent. With a mischievous look, Rii-san wanted to tell horror stories. Though, before she could get a start, Kurumi had hit her in the head to stop. After, Kurumi told them that they should talk about something cheerful, like a love story. Suddenly, Yuki recalled something scary, graduating. The three continued discussing about Megumi.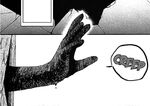 Megumi began to explain that she doesn't care what happens to her but she wants Yuki, Kurumi, and Rii-san to be safe. In addition to this, she wants them to leave the school with a smile on their face.
In another location, a hand managed to break in, from somewhere.
Character Appearances
Edit
The following characters appeared in this chapter (in order of appearance):
Community content is available under
CC-BY-SA
unless otherwise noted.