Did you mean Teacher (Chapter 4), chapter 4 of the manga?
---
Teacher (せんせい, Sensei?) is the 20th chapter in the Gakkou Gurashi! manga.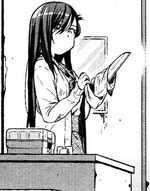 Yuki
was idling from the outside of the
School Life Club
room. Inside,
Kurumi
was breathing heavily, while
Rii-san
was wiping her off. Kurumi's left arm and left leg were still cuffed to the sofa. Yuuri sits down, later getting up and unwrapped a
kitchen knife
.
Meanwhile, Miki was in the basement with zombified Megumi. During the standoff, zombified Megumi roared loudly. From this, Miki fled up and out of the basement, past the shutters. Zombified Megumi followed behind. However, as Miki turns around, she notices that zombified Megumi was stuck. Now with a barrier in the way, Miki began to introduce herself. She says that she is the new member of the School Life Club. She continues on saying that Rii-san is like a "big sister", Yuki is very cheerful, and Kurumi... is the person who she'd go to when in need of help. Ending their conversation, Miki says that they're doing fine. Megumi managed to crawl underneath and grabbed Miki's leg. Scarring her for a bit, she finally tells her, "Please... rest well."[1] and kills her. Now proceeding towards the basement...
During so, Rii-san is mentally broken and is sitting in the corner. She appears to be cover her ears from Kurumi. Pulling herself together, she grabs the knife and approaches Kurumi.
Now in the basement, Miki found a box that was pulled out. Praying for the best, she opened it and took medical supplies.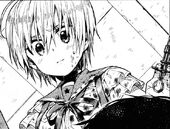 Running back past Yuki, she arrives to the room at the very last second. Rii-san dropped the knife and Miki gave the medicine to Kurumi. Rii-san wondered if Kurumi would will be alright. To which, Miki replied, "The syringe is loaded with a sedative, antibiotics, and an experimental serum."
[2]
Her pulse returned and Rii-san covers Kurumi up with a blanket, telling her, "Do your best, Kurumi."
[3]
Character Appearances
Edit
The following characters appeared in this chapter (in order of appearance):
References
Edit