Sports Festival (うんどうかい, Undoukai?) is the 14th chapter in the Gakkou Gurashi! manga.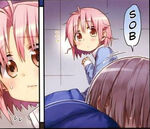 Yuki
wakes up to the sounds of
Miki
sobbing. Yuki considers on comforting her and began to reach her hand out... quickly, she panicking and went back to sleep.
The next day, in the School Life Club room, Rii-san is checking their assets, Kurumi is cleaning off her shovel, and Yuki is reading manga. Out of nowhere, Miki asks if she can help out. Reasoning that it would help calm herself down, Rii-san responds and Miki began to help her by adjusting inventory.
During their conversation, Rii-san mentions that she'll have to show Miki the storage room. However, Yuki interrupts and shouts, "
SPORTS FESTIVAL!
"
[1]
. The other club members then question why they should partake in such an event in the first place. Yuki suggests that this will be an exercise and would allow them to take a break from their work.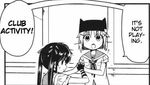 Yuki pinches and pokes Kurumi, while Miki told her that they can
play
after finishing work. With that, Yuki points out that Yuki's "sport festival" wasn't them playing around but rather it being a "
club activity
". And since the club's fifth article requires everyone to participate, they do so.
Rii-san was seen creating a poster for their sports festival. Meanwhile, Kurumi and Miki had a race; this event resulted in Kurumi winning, despite having a shovel equipped on her back. Finally, the "Great Ball Throwing Contest"; this resulted in Miki winning against Yuki.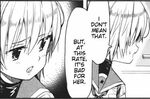 Cleaning up now, Rii-san asked Miki if she began to get used to Yuki's delusions. She replies, "Yes, I'm beginning to."
[2]
A moment of thought and Miki continues their discussion with her believing that this was a bad thing for Yuki. Rii-san stopped in her tracks and stated that Yuki is an important member because she keeps everyone happy. They discuss more about this, but in the end, Miki strongly believed that this was wrong for Yuki. Their conversation ended when Yuki returned; Kurumi tells Yuki to pick up the rest of the balls.
Character Appearances
Edit
The following characters appeared in this chapter (in order of appearance):
References
Edit
Community content is available under
CC-BY-SA
unless otherwise noted.