Sports (うんどう, Undou?) is the 41st chapter in the Gakkou Gurashi! manga.
Sino, walking outside with a motorcycle helmet on, kills four zombies. It appears to be that she was extracting some blood from those zombies before killing them. Returning to the campus, another girl ran a body check. Passing, Sino changes her clothing and Kougami tells her that she didn't need to work hard, despite the fact she does it better than anyone else.
Miki walks in on Kurumi's and Touko's game, with Kurumi losing. Miki asked if it was safe to walk outside at the sports field. Another Touko Seminar, Touko draws a diagram of the school.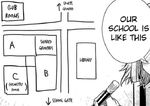 She then marks an X over two locations that are too dangerous to enter that being the Chemistry Room and a smaller area (a grave site).
Ruu and Yuki are playing outside
, while Miki and Rii-san were talking. Miki discovers that Yuuri is scared but tries to calm her down by telling her so was everyone else. They discuss more and Yuuri has decided to exercise to increase her stamina.
Miki gets up and walks around. Finding an area marked DO NOT ENTER, she takes a look and sees that Sino was dropping a flower, turns around, and leaves. Miki places her ear by the barricades to discover that some zombies were in the containers, prays, and walks off. Soon, she finds a door, chained and labeled Chemistry Room. She stands by the door then walks off. From there, a mysterious girl from inside, using a PA system, calls out to her to not move and wants to talk.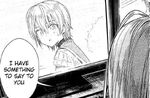 Community content is available under
CC-BY-SA
unless otherwise noted.