Shopping (おかいもの, Okaimono?) is the tenth chapter in the Gakkou Gurashi! manga.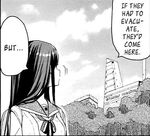 Now at the
mall
entrance,
Rii-san
looks up saying that if the city had an evacuation they'd go to the mall.
Yuki
passes through the entrance and began to wonder why it was dark, yet the entrance was opened. Rii-san picks up a flyer that was on the ground and tells Yuki that an event was going on right now. She also tells her to stay quiet to not cause a fuss during the event.
Sneaking through, they enter a small convenience store. Yuki sees an MP3 player and takes it while Yuuri picks up some glow sticks.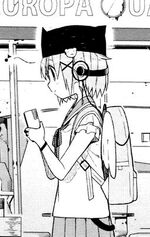 On the first floor, before passing, Rii-san tossed some glow sticks to distract the
zombies
. Surprised, they found a new tool to use against the them. While Yuki was listening to music,
Kurumi
returns and tells about items she obtained. Afterwards, Rii-san wanted to check the upper levels for any other survivors.
Now on the second floor, while they were heading up, Rii-san and Kurumi discuss about the zombies. As it appeared, it seems that they only stayed on the lower levels.
While on the third floor, Yuki picks up three anti-crime buzzers. She believed that they'll make good key chains and clipped them to her backpack. Later they head into a clothes store.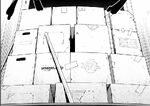 While walking up the stairs to the fifth floor, the group finds a barrage of boxes. Kurumi climbs over to inspect. Shortly, she falls back and the barricade collapses, revealing zombies.
In another location, the mysterious girl wakes up and listens through the door. As it happened, the zombies in the room were walking out. She quickly adds more boxes behind the door and tries to sleep. Shortly, she got up after hearing the others calling out for Kurumi.
Character Appearances
Edit
The following characters appeared in this chapter (in order of appearance):
Community content is available under
CC-BY-SA
unless otherwise noted.