Setting Off (たびだち, Tabidachi?) is the 31st chapter in the Gakkou Gurashi! manga.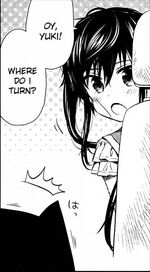 Kurumi is driving Megumi's car. While so, she turns her head towards Yuki to ask her where to turn. Eventually, they stop by a small convenience store and Kurumi was about to head in to check what was inside. Yuki wanted to join but Kurumi tickled her with her cold hands. They enter to see that everything was already salvaged. Kurumi walks off to check on something else, while Yuki began to clean up the place.
The School Life Club members are laying down inside and began to ready themselves for sleep. They discuss about Yuki being a big help. Later, Yuki got up and started walking out. Suddenly, Rii-san appears and scolds her for being foolish (and wandering without another person).
In the morning, they continue off driving again. While so, Kurumi told Yuki to not touch anything but could play some music (via CD). Yuki accidentally toggled the radio which announced, "This is Megurigaoka station 111!"[1] Surprised and confused, they discover that the radio was set to A.M.. From this, the School Life Club member's morale went up.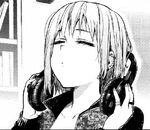 In another area, a woman, who was broadcasting, was switching off.
Community content is available under
CC-BY-SA
unless otherwise noted.