Secret (ひみつ, Himitsu?) is the 33rd chapter in the Gakkou Gurashi! manga.

Kurumi, Miki, and Rii-san are looking over the map. Soon, Yuki comes out of that bathroom and says, "Washing up with water is the best!"[1] Next, they have a small discussion. Rii-san was bothered about abandoning Megumi's car. From this, Yuki quickly shifted gears and asked Megu-nee if they may use Radio DJ's RV in place of her car. According to Yuki, Megumi agrees. A bit more discussion and Miki wanted to wash herself up. Due to the lack of water for laundry, Kurumi and Yuki decided to go swimming in a nearby river.
Later, Yuki caught a cold, while Kurumi and Miki were doing the laundry. Miki was quite happy about Yuki wanting to do something in such a long time. The two discuss about Yuki being reliable. Continuing on, Miki just wanted this to last a little longer since they're moving on to a university. Kurumi reasons that even if they all wanted it to be that way, someone or something will obscure their path ahead. So they'll just have to be ready when it's there. Miki shrugs it off as something decent of what Kurumi could say.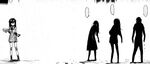 Kurumi was on night watch. Miki heard a noise and looked out the window, seeing Kurumi walking off. Somewhere in the town, Kurumi faces against three zombies! Standing still, the zombies pass her. To test whether or not, she shouts and the zombies turn around and attack. Miki unexpectedly runs in and the two fled.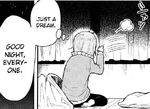 Back at the river, the two were having small talk. Later, Rii-san interrupts and began asking why the two were out so late. Yuki walks up and looked through her window. She spotted them being scolded by Rii-san. Sleepily, Yuki waves it off as a dream and goes back to sleep.
Community content is available under
CC-BY-SA
unless otherwise noted.