Refuge (ひなん, Hinan?) is the 27th chapter in the Gakkou Gurashi! manga.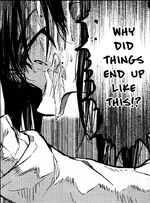 On the roof, Rii-san told Yuki to go on ahead. After she left, Rii-san began to scream in frustration. Shortly after, Yuki returned and they head inside.
The two are now walking inside the school. Heading towards the School Life Club room, they grabbed the remaining supplies and, before leaving, Yuki wanted to make an announcement that this was a fire drill. Rii-san agrees and they head into the broadcasting room. During setup, Rii-san tells Yuki that she'll record her message and set a 7 minute timer. Then the two headed off to the hallways.
Walking down the stairs, Rii-san spotted some idling zombies and had tossed some glow sticks. Distracting them, Rii-san understood that if they didn't escape the fire, they'd be done for... but, where do they go?
Out in the field, Yuki's fire drill announcement went off. She told everyone that this was a "fire drill" and that if Kurumi and Miki were to hear it, Yuki and Rii-san are seeking shelter and will be waiting for their return.
Back inside, Yuki and Rii-san are drowning in the smoke. Unfortunately, Rii-san was already lost in the smoke, though, Yuki had saw something. She pointed towards it and Rii-san began to reach out, discovering that it was the basement shutters. They crawled underneath and sealed it shut, while so, Yuki thanked Megu-nee.
The following characters appeared in this chapter (in order of appearance):
Community content is available under
CC-BY-SA
unless otherwise noted.