Paradise (らくえん, Rakuen?) is the 28th chapter in the Gakkou Gurashi! manga.
Meanwhile...
Kurumi was looking out at the field and spotted some zombies idling. It appears that most of them had caught on fire. As Kurumi turns around, she decides to move Miki into a car then she began to attack.
Rii-san, who was awake, and Yuki, who was asleep, had locked themselves in the basement. Rii-san had been trying to keep up with Yuki, but grew tired of it. After Yuki woke up, she had tried to help cheer her up by asking if she wanted to play a card game. Rii-san told Yuki to shut up while she was trying to collect herself.
Yuki then began to ask about where to meet up with Kurumi and Miki. From this, Rii-san snapped. She tells Yuki that there is nothing left for her to do and that she can't go on anymore. Yuki responds by calming her down first, then allowed her to sleep on her lap. Later, Yuki was looking through some of the boxes and left a chocolate bar, water, and a note (written that she'll be out for a bit) for Rii-san.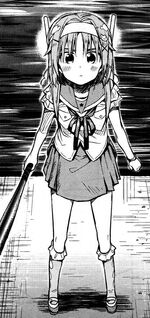 Yuki, in her battle gear, went upstairs to find Kurumi and Miki. As she got to the top of the staircase, she began to struggle while opening the shutters. A short moment later and there was a noise. From this, Yuki prepared to attack. Unexpectedly, Kurumi and Miki appeared and had caught Yuki in the act of her search-and-rescue outfit, as well as her attack. The two shrug it off and laugh.
Character Appearances
Edit
The following characters appeared in this chapter (in order of appearance):
Community content is available under
CC-BY-SA
unless otherwise noted.