Pain (いたみ, Itami?) is the 48th chapter in the Gakkou Gurashi! manga.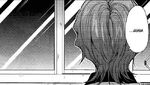 Rise, tied up, is shouting for someone. She says that she has to go to the restroom. Thinking about Toko, Hika, Aki, and the other kids, she considered that they needed more people in their attack to leave a single guard behind. Looking ahead, Rise spots the window, thinks if it'll work, and breaks it.
In another location, Sino has captured Aki while Ayaka and the other dude regroups with Touko. Aki notices that Ayaka had Hika's music box.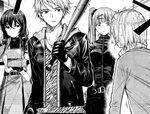 Yuki flushes the toilet and was heading back; along the way, she heard Hika's music box around the corner and ran straight towards it. Realizing that it was a trap, she screams.
Miki heard Yuki's scream and woke Rii-san and Ruu up. Miki reports that Kurumi was missing and that the others might be in trouble. Rii-san had wanted to go find the others, but Miki believes that it was too dangerous to go out looking for people. Instead, Miki suggested that they take refuge in the basement, assuming that the shelter's configuration was the same as their school. Along the way, Sino appears before them and captures Miki. Yuuri, along with Ruu, makes a break for it into the basement.
In the basement, Rii-san and Ruu hid behind a table. Ruu fell asleep, while Rii-san had a flashback someday before the outbreak...
Rii-san and Ruu was walking along the sidewalk. A gust of wind blows off Ruu's hat and she runs off, trying to get it back. Rii-san notices and runs after her. Passing through a few bushes, a few zombies appear behind her. Rii-san looks over and sees that Ruu ran into a building. Inside, she opens a door...
A noise was heard by the door and Rii-san attempts to make another break for it. Sino appears by the door, yet, remaining idle.
Running pass another set of doors, Ayaka trips Rii-san and Sino walks up to tie up Rii-san. Ayaka walks up to Ruu and places her foot on top of Ruu's head. She questions Rii-san if it was so precious to her then tells Sino to take her away. Rii-san shouts that she will not be forgiven; then shouts for Ruu.
As we pan out, Ruu's true identity is revealed to be Yuki's Guuma-chan.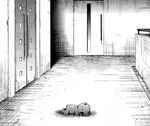 Community content is available under
CC-BY-SA
unless otherwise noted.