Nice to Meet You (はじめまして, Hajimemashite?) is the 36th chapter in the Gakkou Gurashi! manga.
Outside of the
RV
,
Rii-san
was discussing some things with her little sister. Starting off with her name, Rii-san couldn't remember what her name was. Instead, she told her younger sister that she'll call her "
Ruu
" and that Ruu can call her "Rii".
Yuki
approaches them and Rii-san introduces her to Ruu, afterwards Yuki plays with her.
Miki
was looking outside from the RV.
Kurumi
asked her if something was wrong but she says that something worries her. Kurumi then tells her that she has that feeling as well. Suddenly, Kurumi told Miki to treat her like Yuki, whom is usually childish. Miki disagrees, partly, considering that she is childish but not a child. After imagining a world of Yuki, Kurumi pinches her cheek and tells her that they'll be arriving to the
university
soon and that they shall study well.
The group is now eating dinner and they talk a little. Ruu was seen copying Yuki's doing.
While they were sleeping, Ruu screamed aloud and Rii-san calms her down. On the other side, Yuki is faced away from Rii-san and was thinking about something.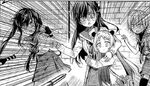 The next day, Kurumi was scouting the area with a pair of binoculars. From the looks of it, the main gates entering to the university were cleared. Thus Kurumi flags the others down and they all climbed over the wall. Upon entering, a boy hiding behind a few bushes was heard. He demanded that they had dropped their items on the ground and so they do. Apparently, the man out up, and once again, demanded for Rii-san to drop everything. Idling, he fired his crossbow at Rii-san and Ruu.
Character Appearance
Edit
Community content is available under
CC-BY-SA
unless otherwise noted.