"
It has everything. It is just like our own country.
"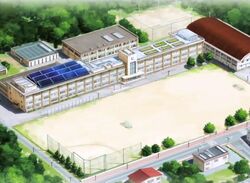 Megurigaoka High School
(

巡ヶ丘学院高等学校

Megurigaoka Gakuin Kōtō Gakkō)
was the school that
Yuuri Wakasa
,
Kurumi Ebisuzawa
,
Yuki Takeya
,
Miki Naoki
, and
Kei Shidou
attended, as well as
Akiko Kamiyama
and
Megumi Sakura
's place of work.
This school served five (known) clubs: student council, the scuba club, the garden club (also known as the "horticulture club"), the track and sports club, and School Life Club.
Unlike most high schools, Megurigaoka High Private School had facilities that could sustain a group of people for extended periods of time, this includes: solar powered electricity, underground water collection and filtration systems, garden for growing crops as well as an underground shelter. This school had also featured a school store and has showers that provide hot water, a water tank, and a PA System to broadcast messages throughout the school. When the hordes of zombies bursts into the school during the rain, the electricity generators were damaged.
After the outbreak occurred, the school was littered in zombies (former students) whom were still driven by their past memories.
Known Attendees