Making a Stopover (よりみち, Yorimichi?) is the ninth chapter in the Gakkou Gurashi! manga.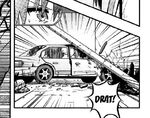 Along the way to the mall, the
School Life Club
members kept driving into dead ends or blocked roads. Later,
Rii-san
asked if
Kurumi
wanted to switch places and they do. After switching, Kurumi couldn't navigate with a map. Unsure of where to go, Yuki points out they're location and had it been that Kurumi and Yuki swapped places as well.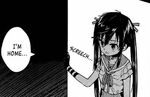 A few minutes later, Kurumi spots her house and shouts to stop. Yuki began to ask if she wanted to go and check in since they've been at the school for a long time. Kurumi agrees and enters her house. Inside, Kurumi looks for her parents but finds no one. Then heading to her room, she lays down for a moment. Finally, she returns to the group.

Later, Kurumi sat outside from the car. Rii-san hands her a drink and they discuss about possible rescue teams outside of the school. And that they'll just have to wait for a hero to rescue them. Suddenly, Yuki interrupts and shouts, "
Naive!
"
[1]
then goes off saying, "You can't wait for a hero! We'll become the heroes!"
[1]
Kurumi argues, "This isn't Manga!"
[2]
The scene continues with Yuki talking...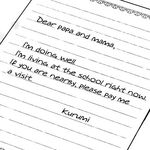 Back at Kurumi's house, at the dining room table, Kurumi had left a letter which read...
Dear papa and mama,

I'm doing well,
I'm living at the school right now.
If you are nearby, please pay me a visit.

Kurumi[3]
Character Appearances
Edit
The following characters appeared in this chapter (in order of appearance):
References
Edit
Community content is available under
CC-BY-SA
unless otherwise noted.