Little Sister (いもうと, Imōto?) is the 34th chapter in the Gakkou Gurashi! manga.
Rii-san asked if Miki was feeling alright. She replies that she stayed up very late last night. From this, Rii-san reminds her that she doesn't need to overdo herself. Afterwards, the RV abruptly stopped. It appeared that Kurumi wasn't paying much attention at all, thus Miki wanted to drive; Kurumi agrees and shows her how to drive.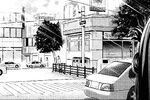 In the meantime, Rii-san went outside and took a look at the town. She sees that the town was normal. A moment later, Yuki interrupts and tells her that it wasn't safe to be out alone. Together, the two went back inside the RV.
Miki was ready to drive, but Rii-san—unexpectedly—asked about returning to school to tend the garden. The others stood confused until she told to disregard and that it was a joke.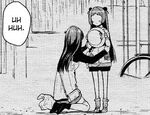 Outside again, Rii-san was sitting by the RV. Suddenly, an unknown figure appears. However, Yuki, once again, interrupts and hands her a bottle of water. They sit and Rii-san tells Yuki that she actually had a younger sister; whom until now she had forgotten. Suddenly, Rii-san started to apologize to her. She explains that her little sister would always fall behind without her notice. As she begins to tear up, Rii-san also tells Yuki that had accidentally mistook Yuki as her younger sister.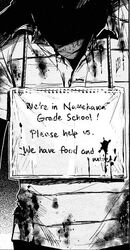 Yuki refrained Rii-san and told her that she wasn't selfish. She explains that they wouldn't be where they are now without her. Later, the two fell asleep while Miki and Kurumi were observing the map. They pointed out an elementary school called "Namekawa Grade School"; Kurumi decides to go and take a look. After moment after walking outside, she spots a zombie with a sign wrapped around its neck. Kurumi thought for a moment, believing that this was foolproof, considering that it was one way communication to those who were infected. She attacks and before finishing him off, Rii-san walks out the door, spotting her.
Community content is available under
CC-BY-SA
unless otherwise noted.