Inquiry (といかけ, Toikake?) is the 15th chapter in the Gakkou Gurashi! manga.
During breakfast, Yuki told Miki that she should be happy when eating. A bit after, Miki gets up. She apologizes but tells them that they should consider their future. Notably, staying put at the school will get them nowhere. From this, Yuki asked her if she was going to college because she looked smart.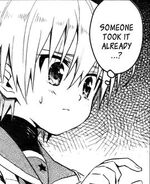 Later, Miki crosses over to the wrong side of the barrade. She then enters the library and was looking for a book in the psychology section. Realizing that the book she was looking for was missing; Miki had believed that someone took it. Rii-san was running a patrol around the area. Spotting an mp3 player, Rii-san had believed that Miki has been plotting something.
Miki returns to the School Life Club room. As she does, and Rii-san is angry about her going downstairs without notice and—then again— without another member present with her. Yuki and Megumi began to talk. Realizing that they had forgot about their make-up classes, they both take their leave.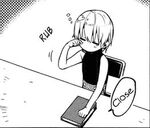 Nighttime falls and Miki is reading a book obtained from the library about Multiple Personality Disorder (MPD). After closing the book, everyone enters the room. A short discussion was held but Miki decides to walk off to the restrooms. Yuki stops Miki and addresses the club's third article, never should any persons be alone wandering during the night. Another short discussion was held but Kurumi ends up preventing Rii-san from interfering. The two leave and Rii-san worries about them. Kurumi reassures her that they'll be fine... maybe.
Miki and Yuki are now walking down the halls. Shortly after, Miki began confronting Yuki. She tells her to stop this. Though Yuki doesn't understand what Miki meant, she continues to tell her that it is "okay" and that there is no point in hiding it.
The following characters appeared in this chapter (in order of appearance):
Community content is available under
CC-BY-SA
unless otherwise noted.