Did you mean Graduation (Anime), episode 12 of the anime?
---
Graduation (そつぎょう, Sotsugyō?) is the 30th chapter in the Gakkou Gurashi! manga.
Yuki appears to be asleep while Kurumi, Rii-san, and Miki are discussing on what to do next. Kurumi kept wondering what was going on with her right arm. Suddenly, Yuki gets behind Rii-san and Miki and suggested that they continue their studies. They agreed.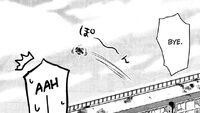 Some time later, Kurumi was looking at the pistol on the school roof. Caught by Miki, Kurumi quickly hides the pistol but ended up showing it to her. Within the discussion, Miki says that she only see people use guns in movies and such. She hesitates on that thought and tossed the gun over the roof. Kurumi was shocked but Miki had thought rationally and explained that, "It's too dangerous to keep around. An accidental discharge would be bad."[1] Kurumi reconsiders and was glad that she took action.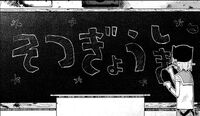 The two returned into the school, where Yuki and Rii-san were still cleaning. Yuki wrote "Graduation Ceremony" on the blackboard. Later, they pack up then set up for the Megurigaoka High School's graduation ceremony.
The graduation ceremony with Miki, who tells them that she was glad that she had a unforgettable school life and thanks Yuki and the School Life Club members for it. Yuki now stands and narrates her memories of their fun times. Suddenly, she breaks out into tears and the others help aid her.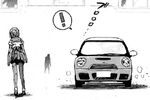 In the front of the school, the School Life Club members gave one last bow then went inside the car. Miki is thinking about Kei, she believed that Kei would probably return to the school– since everyone loved school. A moment later, while Kurumi was driving out, a zombie resembling Kei walks past them. Miki hesitates to ask and they are on their way to town.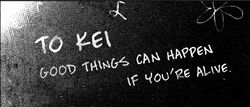 Ending with the scene of their befallen club room, Miki had left a note for Kei on the blackboard reading, "To Kei, good things can happen if you're alive."[2]
The following characters appeared in this chapter (in order of appearance):
Community content is available under
CC-BY-SA
unless otherwise noted.