From Now On (これから, Kore Kara?) is the 24th chapter in the Gakkou Gurashi! manga.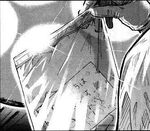 In another location... People in hazmat suits were looking over an inventory of salvaged items. One of them was
Yuki
's drawing.
Meanwhile, Kurumi, Miki, and Yuki are looking at the survival encyclopedia. Later, Yuki happily announces the School Life Club's second biggest expedition. Rii-san interrupts and had Yuki and Kurumi finish their studies.
Some time before...
Miki, Kurumi, and Yuuri are speculating about the Randall Corporation. They were suspicious of the Randall Corporation for these two reasons:

"Most of the recent development is thanks to them."[1]
After finishing their studies, Rii-san shows off her radio. Yuki then discusses about running another festival and left to tell Megu-nee.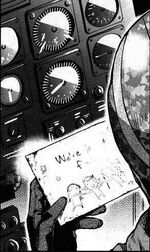 In another location, a radio goes off. Meanwhile, a man entered a helicopter and flew off. In his hand was Yuki's drawing...
Character Appearances
Edit
The following characters appeared in this chapter (in order of appearance):
References
Edit