Fight (たたかい, Tatakai?) is the 45th chapter in the Gakkou Gurashi! manga.
Kurumi was running and thinks about not disliking the sport of running, but the reason why she joined the track and field club was... "What was it?"[1] On the school roof, Yuki, Rii-san, and Megumi were holding the roof door shut. Kurumi's senpai, zombified, began to attack Kurumi. She remembers that it was her who had to end him with the shovel, and she attacks. Piercing him with the shovel, Kurumi gets on top of him and starts eating him.
Realizing that wasn't how the events played out, Kurumi wakes up. As she gets up, she spots the two sets of handcuffs, one on her hands and one on her ankle. Unlocking both, she looks outside and spots a man from the Melee Fight Crew walking up.
Aki, Touko, and Hikako were drinking in Touko's room. Hikako, wanting another cup, hugs Touko tighter. Aki asked what was wrong and Hikako replies, "...Touko, are you really going to come back?"[2] Touko replies that she will and asks her, "What do you want as a gift?"[2] Hikako replies, "Sumiko"[2] Touko says that she will find her. Afterwards, Aki thinks that something was missing, and Touko comments about Sumiko's Song, which they used to sing when they got drunk.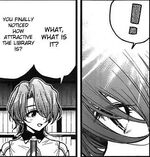 In the library, Rise, speaking to the Melee Fight Crew, says: "You finally realize how attractive the library is?"[3] Rise explains that the libraries are here to support every citizen, so they understand things. She says that if they aren't here to steal the books, she'll welcome them. Sino (with zombie blood), Ayaka (with a crossbow), and the other guy (with nailed, metal bat) appears. The guy claims that Rise is speaking nonsense. Rise, turning around, tells them that she didn't realize what was going on much, but realizes that they're missing people: a tall man and the boy who wore glasses, and comments on it. Rise says that she's always been inside the library, thus she doesn't know much of what's been going on outside. Ayaka believes that she is trying to escape reality. Rise denies this, thinking about Miki. The guy, then, wants Rise to tell them about those newcomers. Rise delays, saying that she could introduce them to each other. He decides against it. Ayaka says that Rise has never lost something she cares about, which stresses Sino. Rise, confused, spots Ayaka lighting a cigarette and tossing it. Rise gets down to put it out, and Ayaka aims her crossbow to her head. Rise then realizes that she was trapped from the very beginning.
The man who Kurumi spotted starts approaching the RV, wielding a crowbar. He wonders if they were inside, and if he could take them by himself. He spots Kurumi, but sees that she was hunched over, and murmuring. This causes him to hesitate, and he is seen by Kurumi.
Community content is available under
CC-BY-SA
unless otherwise noted.