Field Trip (えんそく, Ensoku?) is the eighth chapter in the Gakkou Gurashi! manga.
Kurumi, in her P.E. clothes, is getting ready to run. She says to herself that she can run whenever she wants to and she gets the same tension when she just hears the starting signal.
In the hallways, Yuki asked Kurumi if she was ready. Yuki began the timer and Kurumi sprinted. Looking at the time, Kurumi was surprised that her time was slower than her standards. From this, Yuki pointed out that she was carrying the shovel on her back the whole time which Kurumi forgot about completely.
Yuki begins to tease Kurumi, saying that she was in "love" with the shovel. Then began to tell her that she should marry it. In efforts of not breaking Yuki, Kurumi says that people tend to say that, "When you are proficient with a weapon, it becomes a part of your body." She also says that she might get an ultimate skill if she keeps using it. Afterwards, Yuki wondered if she wanted a redo without the shovel. Kurumi refuses, where after, she says "Bring on the field trip"[1].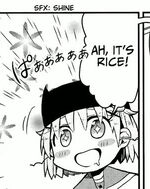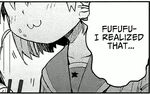 Two days later, the School Life Club members are preparing to eat lunch. During lunch, Yuki reveals her plan that she mentioned last night. It was a club outing (field trip). Before the others could turn down her idea, she explains that this wouldn't violate any of the school's rules since it was a "school-based activity".
Kurumi was against this, saying that clubs shouldn't do this. On the other hand, Rii-san told Yuki that they needed permission from Megu-nee which needed to be presented on paper. Surprisingly enough, Yuki already had a request form filled out. From here, Rii-san told Yuki to go and show her the document and she does so. As Yuki arrived in the staff room, as the room was clearly empty, Yuki appears to have been talking to Megumi.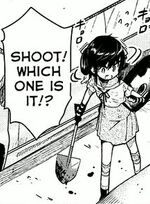 Returning to the group, Yuki reports, "She said it's okay!"[2] and so the group prepared to leave. Later, Kurumi began her journey to go fetch Megumi's car. In the parking lot, Kurumi realizes that she didn't know which one it was. Though process of elimination, she finds Megu-nee's car and drives up to the entrance.
Meanwhile, Rii-san and Yuki (with her bear plushie) were now exiting through the entrance. Looking out, Rii-san and Yuki hid behind a pillar from some zombies that were lurking out in the field. Suddenly, Kurumi drives up to them and they get in. Quickly, they drive off for their field trip!
The following characters appeared in this chapter (in order of appearance):
Community content is available under
CC-BY-SA
unless otherwise noted.