Farewell (おわかれ, Owakare?) is the 29th chapter in the Gakkou Gurashi! manga.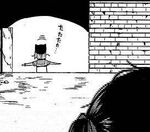 The
School Life Club
members are chatting while eating some potato chips. When
Yuki
finds that they were out of potato chips, she left to get some more. After she left,
Rii-san
asked about the things that happened outside. From this,
Kurumi
and
Miki
explains...
Kurumi became overwhelmed by the amount of zombies. Luckily, the PA system went off and had distracted the zombies long enough for her to strike first.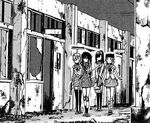 Kurumi also explained that the zombies can catch on fire, easily. Yuki returns with more potato chips and asked if the others can help her clean up the place. They agree and are now walking along the corridors with mops and brooms.
Yuki runs off into a classroom. As she finishes cleaning up the classroom, she spots a downed zombie, moaning. A moment of thought, she talks to the zombie. Telling her that she was doing some club activities. Whilst so, the zombie was crawling to her.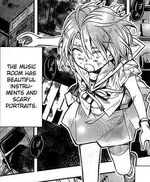 From that instance, Yuki's delusion began to fall apart and she attacks. Afterwards, she fled. Frantically running down the corridors, she repeated the reasons why she loved school. Finally, arriving to the School Life Club room, she broke up in tears. Soon after, Yuki gave Miki a hug, after she found her that was.
Rii-san, on the roof, sees that the garden was burnt. She was happy to say that she no longer had to keep records anymore.
Miki and Yuki are inside the School Life Club room. Finding some old equipment, Miki finds the
graduation album
. From that, Yuki took hold of it and was glad it survived the fire. Quickly, Miki took a picture.
Kurumi, while looking through the wreckage, finds a pistol, a map, and more vaccines.
Character Appearances
Edit
The following characters appeared in this chapter (in order of appearance):
Community content is available under
CC-BY-SA
unless otherwise noted.