Each One (それぞれ, Sorezore?) is the 40th chapter in the Gakkou Gurashi! manga.
Rii-san, Ruu, Kurumi, and Miki saw that Yuki had hung up a sign reading "Touko Seminar". A moment later, Touko, Aki, and Hika followed behind them and everyone entered the room. Along the way, Aki asked Hikako about the event name change to "Touko Seminar", though, Hika wasn't sure.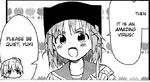 Inside the room, the members discuss on what to do next. A possible solution for the group was to go out and find the
Randall Corporation
. Their next topic focused on the infection being a virus. Their discussion concluded that the zombies would have had stopped due to the lack of food. Touko changes the topic and scared Yuki and Aki by acting like a figure that has ascended from hell. Miki asks Touko if that had referenced a movie. They now discuss what people would had done in a movie... fight evil! They begin to get off-topic and began talking about "Eyeball Man". Since the situation can either be "fight evil" or "save evil" (because evil itself can also be the victim). Aki pushes the group back and Yuki makes a drawing on the board. Rii-san then asks Touko if they may stay. Touko replies so, thus ending Touko Seminar.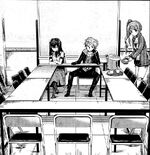 In Touko's room, Kurumi enters to talk her. Before Kurumi proceeded, Touko told her that she had prefered to be called like a
peer
. The two began to play a videogame and Touko tells Kurumi that she had talked to
them
, the
Melee Fight Crew
. She says that they were called up for a talk in a marked off area on campus.
In the small conference room, sometime ago...
The Crew and the Melee Fight Crew had a discussion. The Melee Fight Crew members blamed the Crew for monopolizing the newcomers and the supplies. However, the Crew members had blamed them for allowing Kougami to shoot at them. One of the members apologize and says that he'll get punished. Sino hands Aki and Touko a cup of tea. They drink and depart.
Kurumi comments that they seem unpleasant. From this, Touko tells her that they are so relaxed that they don't do physical checks, unlike the Melee Fight Crew. Kurumi hesitates for a quick second but Tame gave her a slap on the back and they resume their game.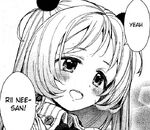 Rii-san and Ruu are walking down the corridors and overheard Kurumi losing to Touko. Suddenly, Ruu began to speak more.
Character Appearances
Edit
Characters Introduced
Edit
Community content is available under
CC-BY-SA
unless otherwise noted.